Single decked, single screw motor ship with double bottom and double skin with coated cargo tanks. The ship is designed for unrestricted navigation and service, being capable to carry a large range of liquid IMO II type cargoes (acc. to IBC Code), vegetable oils, oil products and withstands cargoes with specific gravity up to 1.54 t/m³ at 66°C. The hull form is designed for minimum resistance and overall design provides an environment-friendly, cost-effective, reliable and flexible unit. The ship, provided with cargo pump room installation, has three segregations.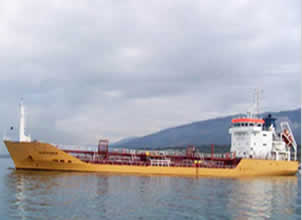 Services
TECHNICAL CONSULTANCY
Shipyard selection
Project planning & Scheduling
Equipment & Material determination
Procurement consultancy
Production control engineering
Ship take-over process management

Ship Information
OWNER
SHIPYARD
HULL NO
DESIGNER
CLASSIFICATION
CLASS ID
CLASS NOTATION
IMO NO
Kaman Denizcilik Petrol Ürünleri Tic. A.Ş. / Türkiye
Sedef Gemi İnşaat San. A.Ş. / Türkiye
129
Bureau Veritas
03194Y
BV I 3/3 E,

HULL

MACHINERY

OIL PRODUCT TANKER, ESP, UNRESTRICTED NAVIGATION

AUT-UMS
9268289

Main Dimensions
Length (BP)
Perpendiculars
Breadth (Moulded)
Depth (Moulded)
Draught (Design)
Draught(Scantling)
92,86 m
86,65 m
14,10 m
7,20 m
5,50 m
5,70 m

Tonnage & Capacities

Speed & Propulsion Sys.
Des. Speed
Main Engine
Propulsion System
13 knots,85% MCR
MAK 6m25, 1 x 1850 kW, 750 rpm
BERG, 1 x Controllable Pitch Propeller, 4 blades, 3500 mm, 151.4 rpm