The sophisticated ship is a single decked, single screw unit with triple bottom and triple skin. The ship is designed for unrestricted navigation and service. No structural element faces the uncoated cargo tanks designed to carry separately molten sulphur and bitumen. The hull form is designed for minimum resistance, overall design provides an environment-friendly, cost-effective, reliable and flexible unit. In the ship that is equipped with a cargo pump room installation, cargo tanks are totally independent from the hull structure and they are carried by special supports and keys. Due to high temperature of the goods loaded, the structure is designed in such a way that the cargo tanks can expand in every direction.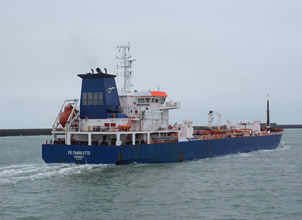 Services
CONTRACTING BUSINESS
Piping systems production & Engineering
Piping systems production & Assembly

Ship Information
OWNER
SHIPYARD
HULL NO
DESIGNER
CLASSIFICATION
CLASS ID
CLASS NOTATION
IMO NO
Eitzen Grup / Norveç
Yardımcı Gemi İnşa A.Ş. / Türkiye
40
Bureau Veritas
04897A
BV I

HULL

MACH, OIL TANKER FLASH POINT > 60 C, ASPHALT 250 C TANKER, MOLTEN SULPHUR TANKER, UNRESTRICTED NAVIGATION, ESP

AUT-MS, AUT-PORT, MANOVR, AVM-APS, SYS-NEQ, CLEAN SEA, CLEAN AIR, MON-SHAFT, VCS, CARGO CONTROL, COMF-NOISE, COMF-VIB, INWATERSURVEY, VERISTAR HULL
9327504

Main Dimensions
Length (OA)
Length (BP)
Breadth (Moulded)
Depth (Moulded)
Draught (Design)
Draught(Scantling)
129,00 m
123,90 m
22,00 m
12,50 m
7,80 m
8,20 m

Tonnage & Capacities

Speed & Propulsion Sys.
Des. Speed
Main Engine
Propulsion System
14 knots, 85% MCR
MaK 6M43, 1 x 5400 kW, 500 rpm
ZF MARINE, 1 x Controllable Pitch Propeller, 4 blades, 4400 mm, 150 rpm, NiAlBr