The ice-classed and single decked ship is equipped with innovative azimuth propulsion system with two units. The ship is designed for unrestricted navigation and service, being capable to carry a large range of liquid IMO II type cargoes (acc. to IBC Code), vegetable oils, oil products and withstands cargoes with specific gravity up to 1.90 t/m³. The hull structure is strengthened with double bottom and double skin. No structural element faces the coated cargo tanks. The hull form is designed for minimum resistance and overall design provides an environment-friendly, cost-effective, reliable and flexible unit. One deep-well pump is installed for each tank while complete segregation for each cargo tank is provided with one vapour return line.
Services
TECHNICAL CONSULTANCY
Feasibility analysis
Shipyard selection
Project planning & Scheduling
Equipment & Material determination
Procurement consultancy
Production control engineering
Ship take-over process management
CONTRACTING BUSINESS
Outfitting units production & Assembly
Machiney systems assembly
Piping systems production & Assembly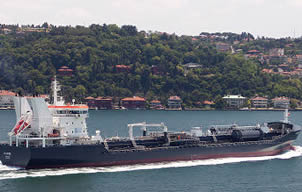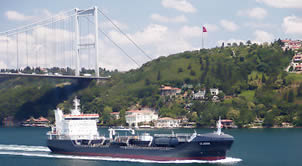 Ship Information
OWNER
SHIPYARD
HULL NO
DESIGNER
CLASSIFICATION
CLASS ID
CLASS NOTATION
IMO NO
Lauranne Shipping BV / Hollanda
Deniz Endüstrisi A.Ş. (Çiçek Tersanesi) / Türkiye
36
Bureau Veritas
07359B
BV I

HULL

MACHINERY, CHEMICAL TANKER, OIL TANKER, ESP, UNRESTRICTED NAVIGATION, SYS NEQ 1

AUT-UMS, ICE CLASS IA, CLEAN SEA, AVM - DPS, IG, VCS, INWATERSURVEY, MANOVR
9334428

Main Dimensions
Length (OA)
Length (BP)
Breadth (Moulded)
Depth (Moulded)
Draught (Design)
Draught(Scantling)
148,00 m
139,50 m
21,60 m
11,30 m
8,50 m
8,60 m

Tonnage & Capacities

Speed & Propulsion Sys.
Des. Speed
Main Engine
Propulsion System
15 knots, 90% MCR, 10% sea margin
BERGEN, B32:40L8P, 2 x 3600 kW, 720 rpm
ROLLS ROYCE, Aquamaster CP Azimuth Thruster, 2 x 3240 kW, 3400 mm, 182.3 rpm, NiAlBr