GAZPROMNEFT NORD WEST
OMG-008

The ice-classed and single decked ship is equipped with two propulsion units consisting of two four stroke engines and two fixed pitch propellers. The ship is designed for unrestricted navigation and service, being capable to carry a large range of liquid IMO II type cargoes (acc. to IBC Code), vegetable oils, oil products and withstands cargoes with specific gravity up to 1.54 t/m³ at 66°C. The hull structure is strengthened with double bottom and double skin. No structural element faces the coated cargo tanks. The hull form is designed for minimum resistance and overall design provides an environment-friendly, cost-effective, reliable and flexible unit. One electric-driven deepwell pump is installed for each tank while five segregations are provided with one vapour return line. Machinery systems are controlled from the engine control room while cargo systems and expedition & control systems are all managed in centrally in the wheelhouse.
Services
TURNKEY NEW BUILDING
Project management (scope, time, cost, resource, communication, risk, procurement, quality management)
Project finance
Determination & Coordination of all project's actors (shipyard, classification society, designer, manufacturers, flag authority)
Contract & Detail design
Determination & Procurement of all material & Equipment
Ensuring subcontractorsand/or workers
Factory, harbour and sea acceptance tests management
Ship registry operations
Ship delivery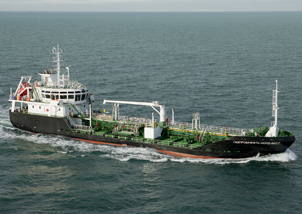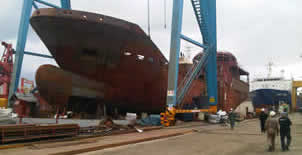 Ship Information
OWNER
SHIPYARD
HULL NO
DESIGNER
CLASSIFICATION
CLASS ID
CLASS NOTATION
IMO NO
Omega Denizcilik Mühendislik ve Enerji A.Ş. / Türkiye
Gisan Gemi İnşa San. ve Tic. A.Ş. / Türkiye
51
Bureau Veritas
18904A
BV, I

HULL,

MACHINERY, OIL TANKER, CHEMICAL TANKER, IMO II, ESP, UNRESTRICTED NAVIGATION, ICE CLASS 1C

AUT-UMS, AVM-DPS, VCS, IG, CLEAN SHIP, INWATER SURVEY, MANOVR
9590137

Main Dimensions
Length (OA)
Length (BP)
Breadth (Moulded)
Depth (Moulded)
Draught (Design)
Draught(Scantling)
72,62 m
66,67 m
13,00 m
6,40 m
4,80 m
5,20 m

Tonnage & Capacities

Speed & Propulsion Sys.
Des. Speed
Main Engine
Propulsion System
12 knots, 90% MCR
YANMAR, 6N21A-UV, 2 x 736 kW, 800 rpm
CEDERVALL, 1 x Fixed Pitch Propeller, 4 blades, mm, rpm