H. İSMAİL KAPTANOğLU
OMG-003

The single decked ship is equipped with single propulsion system ship and strengthened with double bottom and double skin. The ship is designed for unrestricted navigation and service, being capable to carry vegetable oils, oil products and withstands cargoes with specific gravity up to 1.025 t/m³. No structural element faces the coated cargo tanks. The conversion project is prepared to build an environment-friendly, cost-effective, reliable and flexible unit. The ship is provided with a cargo pump room installation.
Services
TECHNICAL CONSULTANCY
Shipyard selection
Project planning & Scheduling
Equipment & Material determination
Procurement consultancy
Production control engineering
Ship take-over process management
CONTRACTING BUSINESS
Conversion to Double Hull
Outfitting units production & Assembly
Machiney systems assembly
Piping systems production & Assembly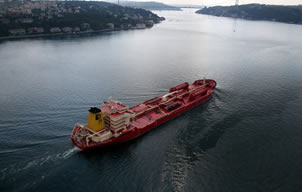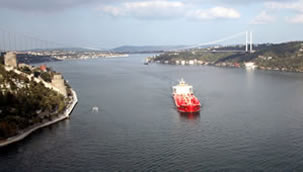 Ship Information
OWNER
SHIPYARD
HULL NO
DESIGNER
CLASSIFICATION
CLASS ID
CLASS NOTATION
IMO NO
Güneş Gemicilik ve Tankercilik A.Ş. / Türkiye
Trogir Shipyard - Hırvatistan (Tekne inşa) & Deniz Endüstrisi A.Ş. - Türkiye (Dönüştürme)
35
Bureau Veritas
04736A
BV

HULL

MACHINERY, OIL TANKER, UNRESTRICTED NAVIGATION, ESP

AUT-UMS, COW, SBT, IGS, CLEAN SEA
8808525

Main Dimensions
Length (OA)
Length (BP)
Breadth (Moulded)
Depth (Moulded)
Draught (Design)
Draught(Scantling)
176,00 m
169,00 m
32,00 m
15,10 m
10,00 m
11,20 m

Tonnage & Capacities

Speed & Propulsion Sys.
Des. Speed
Main Engine
Propulsion System
14.5 knots, 85 % MCR
MAN B&W 6S50MC-C, 1 x 7650 kW,111 rpm
1 x Fixed Pitch Propeller, 4 blades, 5950 mm, 111 rpm